I just wanted to share with you how pleased we are with our sofa and chairs. Having ordered them without really having a chance to see them in a showroom, left me a little nervous about what we might end up with, but they are very comfortable and fit in the room the way I had hoped. Thank you for all the time you spent sharing information, answering questions and making suggestions. Your patience was much appreciated. When you get to Maine, pop down to Bailey Island and say hi.
Thanks again, Laurie ( and the Smith family)
We love our new sofa! It looks really nice in our den. Thank you for helping us select it. The delivery men were friendly, professional and on time. It was an overall great experience working with you. Thanks again!
Wanted to pass along our appreciation for the great care Brandon Jones and Lance Coleman took in delivering our new [heavy!] bedroom furniture to an upstairs room. Both were very hardworking, kind and professional gentlemen! You are fortunate to have them represent you in the delivery process.
"Last July, you helped Del and I select two sofas and two recliners for our then to-be-built home in Ford's Colony. We finally moved in just a week before Thanksgiving. Due in part to the holiday, we are just now getting unpacked. Although it doesn't do the room justice, I wanted to send you a picture of the furniture you helped us select. We could not possibly be happier with the furniture and the way it fits with our existing tables, art & rug. Without your wise counsel and tedious measuring of our house plans, we never could have pulled this off! All who visit are told of your professional, friendly and excellent service."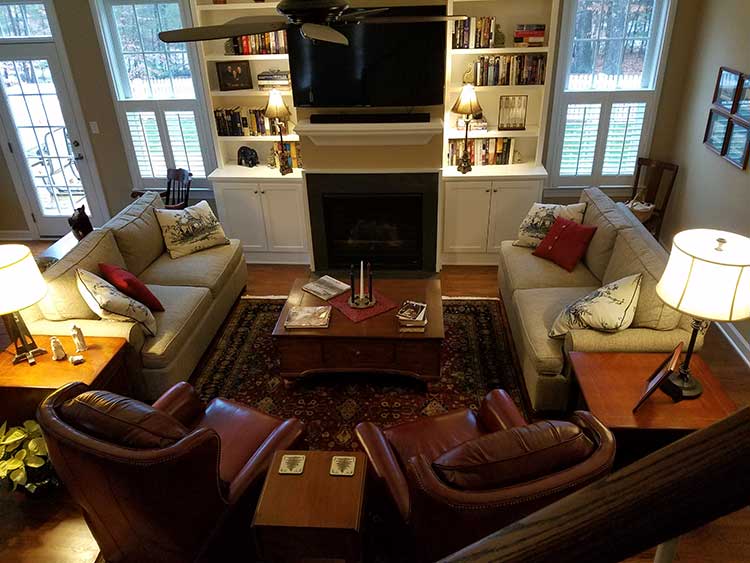 "I am writing to thank your "team" for the superior service you all provided on the repair of my husbands Hancock and Moore chair.  Your prompt handling of my phone call, the pickup and return delivery was so appreciated.  The gentlemen handling the pickup delivery and repair were on time and respectful of my needs and home.  I feel you and your team are a great asset to Carolina Furniture.  It was a pleasure doing business with you all and I look forward to any future business."
"My leather sectional was delivered on Sunday, October 16. It is beautiful! Thank you so much for all you did, and I'm looking forward to working with you again as I plan on redoing my bedroom."
"You were right...about everything. The bed is gorgeous...the wood color is perfect...the gold paint is placed in all the perfect spots...and the monogram is so elegant!!! My husband couldn't believe his eyes.  By the way, the shipping company, Hep Direct, was very professional and arrived on time with no problems. Every other company that I've used has been difficult, but Hep Direct was excellent.  Thank you for all your patience and guidance. I am so grateful."
"Yesterday Carolina Furniture delivered a gorgeous living room sofa and beautiful teak and wicker deck furniture – and we could not be more pleased. We've done business with the Steele family for 15 years and twice recently with Joe. In every case, Joe, his product, service and team have surpassed expectations."
"The store and the inventory they carry is beautiful, and the employees there are incredibly knowledgeable about the lines they carry…something you just don't get at most furniture stores and definitely not from mainstream providers like pottery barn or restoration hardware.  I have ordered 5 pieces from them, a dining table, bureau, headboard and mattress, day bed, and my most recent purchase was a beautiful sofa.  For each order my sales person was responsive, incredibly helpful, and knowledgeable."
We would love to hear from you! If you would like to share your experience with us complete the form below.