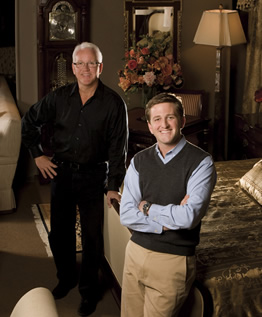 Williamsburg is a place of rich history and tradition, filled with memories of early American craftsmen and the impacts they left on the world.  Visiting is like taking a step back in time and for an instant, you can connect with the past.
We don't have quite the history of our lovely town, but over the past 35 years, we've developed a world-class staff and collection of furniture, and industry expertise, rarely found in even the largest cities.
Owners Judy and Joe Steele met here in Williamsburg while attending the College of William and Mary. Fresh from graduation, they took over an ailing local furniture store in 1975 and turned it into a profitable business. Part of their success is due to a commitment to excellence and value that carried them through even the toughest times. Today, Joe III continues the tradition with an eye for detail and insistence on quality.
Local Feel, National Presence
Our reputation has grown far beyond Williamsburg's boundaries and we're known as a best-of-both-worlds destination; we sell the finest high-end furniture via our creative, knowledgeable staff, yet offer substantial discounts every day.
In 1995, we became one of the first furniture retailers to appear on the Internet, offering our many out-of-state customers a chance to shop from home. As our web business and campus-like collection of shops continues to grow, we remain as dedicated as ever to our customers and helping you make your house a home.
Thank you for visiting us.