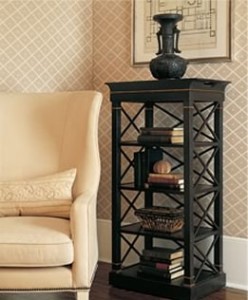 With 35 years in the business, we know what it takes to make good furniture that lasts for generations.  At any given time we've found that the majority of our furniture orders are placed with 10 to 12 manufacturers, so we developed a list of the current top brands, with an explanation of why we think they're among the best in their class.
This doesn't mean other manufacturers don't have great quality and reputations, but with more than 400 to choose from, we offer these as the top providers.  Be sure to check the page for updates – the top ten furniture lines list is updated periodically based on our knowledge of the manufacturers and their products. If you're not sure how to shop our site and receive a price quote, be sure to read the How it Works page.
Our Current Top Brands
Councill –From Traditional to Modern, Councill's furniture is detail-oriented. Offering high-end casegoods and upholstery, Councill produces some of the finest furniture through American production. Incredible finishes, bold design, outstanding product.
E.J. Victor – Experience E.J. Victor's quality handcrafted furniture in finishes ranging from the cutting-edge exotic to the time-tested traditional. Styles cover the spectrum with looks from the Newport Mansions Collection and designers Carol Bolton, Julia Gray, Caroline Faison and Randall Tysinger. Experience Prestige & Elegance with E.J. Victor.
Ferguson Copeland – Eclectic mix of quality wood and upholstered furniture.  Their philosophy of designing different styles and individual pieces that carry a common harmony of design leads to furniture that is fun, provocative and exciting.
French Heritage – Hand-crafted French style home furnishings largely constructed throughout Europe. French Heritage was founded on the principles of producing new furniture with as much character and quality as that of antiques.  The creators of French Heritage are passionate about furniture, fashion, and design and their results stand out amongst other manufacturers in our industry.
Guy Chaddock & Co. – High-end French and English reproductions, known for their rustic finishes and custom capabilities.  Guy Chaddock began restoring antiques and crafting one-of-a-kind reproductions more than 50 years ago. Later, as his reputation and clientele grew, a small group of European craftsmen joined the company and from this nucleus of skilled furniture makers a line of country French and country English home furnishings evolved. With manufacturing in Morganton, North Carolina, Guy Chaddock product still carries the craftsmanship and quality today.
Hancock and Moore – Exceptional leather sofas, chairs, sectionals and recliners; the pinnacle of leather upholstery made in America.  Hancock and Moore uses leathers purchased from around the world: from Italy, to Belgium, even Hong Kong.  Incredible designs, incredible product, incredibly reasonably priced based on the manufacturing behind the product.
Harden – Fine solid cherry casegoods in a variety of styles. A family-owned and operated furniture company started in 1844, Harden Furniture has a legacy of fine furniture making deeply rooted in American craftsmanship, quality and tradition.
Henkel-Harris – "Just Possibly America's Finest Furniture." Truly inspired American production, Henkel Harris offers incredibly designed and wonderfully finished furniture.  High end dining, bedroom, and occasional furniture.
Henredon – Full line of better quality home furnishings.  Currently celebrating their 65th year in the industry, they've committed themselves to high end casegoods with incredibly styled collections.  Along with their exquisite casegoods, they offer some of the best upholstery still made in America.  A wonderful source of in-line fabrics; Henredon has always been known for making impeccably comfortable upholstered frames.
Hickory Chair – A broad selection of custom casegoods and upholstery.  Hickory Chair prides themselves on their commitment to style, customization, and timely production.  They too offer several licensed collections with designers such as Thomas O'Brien, Alexa Hampton, Marriette Himes Gomez, & Suzanne Kasler.  Hickory Chair also produces the Historic James River Collection, Winterthur, & Al Sack collections.  Because of this wide array of designers, they truly offer every style of furniture from period specific traditional, to stylish and edgy contemporary.
Kindel –  Hand-crafting fine furniture in Grand Rapids, Michigan for over 100 years.  Home of some incredible reproduction lines as well as the Dorothy Draper Collection; Kindel manufactures impeccable home furnishings.
Ralph Lauren – Lifestyle furnishings in a variety of styles; High end furniture manufacturing used to achieve a look ripped right from one of Ralph Lauren's ads.  From Cottage Casual, to New York City chic; Ralph Lauren offers a perfectly layered approach to creating a space.
Sherrill – Full line of well manufactured upholstered furniture.  Always Comfy and always classic; their prices vary across the board, but their quality continuously remains.
Theodore Alexander – A comprehensive collection of several thousand different designs; providing eclectic, traditional and transitional furniture and accessories. Using fine materials and traditional craftsmanship on each individual piece Theodore Alexander has become eminent in its field, renowned as a unique brand embodying quality in design.